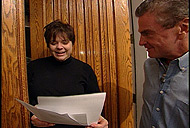 Correspondent Matt Meagher surprised one woman with the news that she had $3,500 in unclaimed funds.
Inside Edition reports that Americans have some 15 billion dollars in unclaimed funds waiting for them to claim, including some famous names. Inside Edition's investigative unit found that many Americans have "lost" money or property, of which they are unaware, sitting unclaimed in state possession. Inside Edition says the law requires that after a certain period of time, unclaimed bank accounts, stocks, bonds and other property gets reported to the state – which keeps it for its owner for life. Every state has an unclaimed property division and Inside Edition reveals how to find the money utilizing online databases run by most state governments. CLICK HERE TO CHECK YOUR STATE.
Inside Edition found that even some celebrities have "lost" funds waiting for them. Inside Edition found money for George Clooney ($180 from Warner Brothers), Jennifer Aniston (a $100 Tiffany store credit), Goldie Hawn ($300, which long time love Kurt Russell says will be given to charity) and comedian Dana Carvey ($800). Even the show's anchor, Deborah Norville, was told she has an unclaimed outstanding sum from 1997 in an account.
Carvey tells Inside Edition he's just going to leave the money where it is. "I don't want to put it in the stock market because everything I put in there goes 'whoop'," Carvey joked.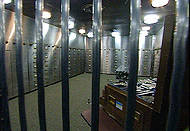 Pennsylvania's State Treasurer Barbara Hafer showed Inside Edition a huge vault containing unclaimed gold, silver, diamonds, and cash.
In California alone, nearly $3 billion is waiting to be claimed, Inside Edition reports. In the San Francisco Bay area, Senior Investigative Correspondent Matt Meagher surprised one woman with the news that she had $3,500 in unclaimed funds waiting for her. Meagher was particularly happy to inform a non-profit organization that helps homeless teens, The Larkin Street Youth Center in San Francisco, that it has $400 in unclaimed funds. Its director says the found money will be used to feed young people.
In the report, Pennsylvania's state treasurer Barbara Hafer, who oversees millions of dollars that state residents leave behind, shows viewers a huge vault containing gold, silver, diamonds, and cash. Hafer invited Inside Edition's cameras to accompany her as she returned some of the unclaimed property, including nearly $1,000 to a woman for her granddaughter in the military.